What The Papers Say - 2011
Back in the day we used to have fantastic coverage from the Gloucester Citizen and in these pages you can see how good it was with a digested version of their headlines. This was 2011.
January 4th 2011
Worcester City 2-0 City -
City 2-4 Solihull Moors -
January 8th 2011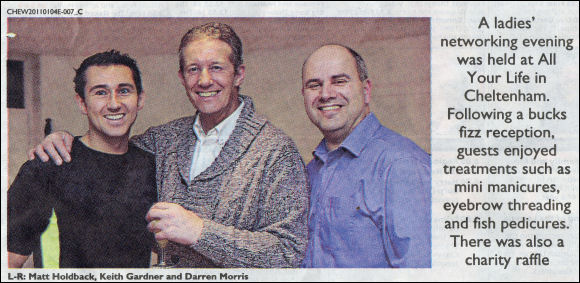 Former Chairman Keith Gardner was spotted at a knees-up in Cheltenham!
January 10th 2011
City 0-1 Boston United -
January 17th 2011
Boston United 0-1 City -
January 24th 2011
City 2-0 Workington -
January 28th 2011
City 1-1 Worcester City -
January 31st 2011
Vauxhall Motors 2-1 City -
February 7th 2011
Luton Town 1-0 City -
February 9th 2011
Hinckley United 3-0 City -
February 14th 2011
Hyde 1-3 City -
February 16th 2011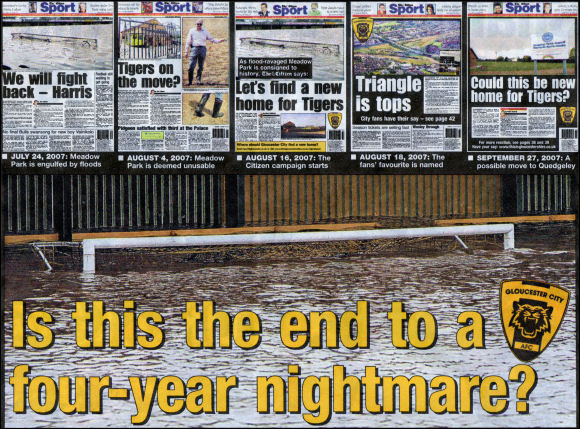 Football's coming home?
February 17th 2011
City 1-0 Vauxhall Motors -
February 23rd 2011
An artists impression of the new Meadow Park Stadium
February 24th 2011
Gainsborough Trinity 2-0 City -
February 28th 2011
City 1-3 Eastwood Town -
March 3rd 2011
Alfreton Town 4-0 City -
March 7th 2011
Redditch United ?-? City -
March 9th 2011
City 2-5 Cheltenham Town -
March 11th 2011
Corby Town 0-2 City -
March 14th 2011
Boston United 1-0 City -
March 17th 2011
Nuneaton Town 0-0 City -
March 21st 2011
City 1-2 Stafford Rangers -
March 24th 2011
City 2-1 Hinckley United -
March 28th 2011
Harrogate Town 3-0 City -
April 1st 2011
City 0-2 Stalybridge Celtic -
April 4th 2011
City 0-3 Nuneaton Town -
April 11th 2011
Blyth Spartans 0-2 City -
April 18th 2011
City 2-1 Alfreton Town -
April 21st 2011
Guiseley 1-1 City -
April 25th 2011
Stalybridge Celtic 4-3 City -
April 27th 2011
City 2-2 AFC Telford United -
May 2nd 2011
Droylsden 2-4 City -
July 20th 2011 - Drunkard racially abused police officer
A DRUNK man chased a city taxi driver around his cab brandishing a bottle and then racially abused the police officer who arrested him.

Kwesi Cairns, of Harescombe Drive, Kingsholm, was warned by District Judge Martin Brown that his "appalling" behaviour could result in a prison sentence. He told the 31-year-old, who was appearing at Gloucester magistrates court on Monday: "Attacks on taxi-drivers who are just trying to do their jobs are all too frequent and your behaviour was appalling."

Cairns, who has a previous conviction for racially aggravated assault, pleaded guilty to common assault, racially aggravated harassment and criminal damage.

Prosecuting solicitor David Nicholas said Mohammed Bah had driven to Barton Street on June 16 but discovered five people wanted to get in the cab, when he could only take four. "The defendant became angry and the taxi-driver locked his door. But the defendant put his hand through the open window and opened it. "The rest of the group told the defendant to leave it and suggested they all walk, but the defendant shouted at the taxi-driver that he was going to bash his head. "The defendant then kicked out at the car and started to chase the taxi-driver around the vehicle waving a bottle."

The police were called and arrested Cairns but while in custody "he shouted at one of the officers, who was of mixed race, calling him 'Uncle Tom, a half-breed and a disgrace'," said Mr Nicholas. Cairns told the court: "I made a series of bad mistakes that night, which happened because I had been drinking too much. "That's not me as a person."

District Judge Brown said: "This is very serious and has happened to you before. I am ordering a pre-sentence report to be prepared on you with all-options, which includes custody."

Cairns will appear for sentencing at Cheltenham today.