What The Papers Say - 1998
Back in the day we used to have fantastic coverage from the Gloucester Citizen and in these pages you can see how good it was with a digested version of their headlines. This was 1998.
January XXst 1998
February 27th 1997
Stoke City Reserves 3-1 City Reserves - City Reserves suffer defeat at Stoke
Gloucester City reserves threw away a 2-0 half time lead as they lost 2-3 at Stoke City in the Central Conference last night.

Andy Mainwaring put City two up inside fifteen minutes. The first came in the tenth minute when he charged down the Stoke goalkeeper's clearance from Dwayne Smith's through ball and slotted home.

Four minutes later he collected the ball forty yards out and planted an exquisite chip over the out of position goalkeeper.

However, Stoke pulled one back through Jamie Godbold in the 57th minute and were level seven minutes later when Steven Taaffe lobbed Mark Sumpter. The turnaround was complete in the 84th minute when David Elsey was adjudged to have brought down Taaffe and the player scored the penalty himself.
March 4th 1997
Hemmings lines up for City reserves
Former Hednesford Town striker Tony Hemmings plays for Gloucester City reserves against Hereford United in the Central Conference at Meadow Park tonight (7.30pm).

Hemmings, who was sacked by Hednesford last month for 'persitent misconduct', is one of two trialists in the City line-up and will play on the left wing. The other is left-back Dean Huggins, who has just left Welsh side Carmarthen Town. With David Elsey on the transfer list, left-back is an area of concern to City boss Leroy Rosenior.

There are several first team players in action tonight, with Gary Thorne, who starts a suspension on Saturday, Steve Mokler, Dave Webb and Paul Adcock all in the line-up.

CITY RESERVES (from): S.Mokler, J.Murphy, D.Huggins, S.Powell, G.Thorne, A.Tucker, T.Hemmings, D.Webb, D.Smith, P.Adcock, R.Colwell, D.Nichols, T.Rutter, M.Temple.
March 5th 1997
Half-time wash-out for reserve clash
Gloucester City's Optimum Interiors Central Conference clash with Hereford was abandoned at half time last night with the Tigers 1-0 up. Trialist Tony Hemmings, formerly with Hednesford, set up the goal in the fifth minute with a left wing corner which was spectacularly headed home by Robbie Colwell.

The Meadow Park pitch had one or two puddles on it at 6.45pm, but was passed fit, however, incessant rain throughout the first half left it unplayable by half-time and both teams agreed to an abandonment. Former Carmarthen Town left back Dean Huggins, the other player due to try out for City, did not make much of an impression as he could not find his way to the ground.

Former Gloucester City defender Mark Evans, who was released after the 2-3 home defeat by bottom club Ashford Town last month, has joined Dr Martens Premier Division rivals Worcester City.
March 7th 1997
Gloucester City manager Leroy Rosenior yesterday completed the signing of former Bristol City left back Dean Huggins.

"I have known Dean since he was a kid at Bristol City and have been after himn for a while," said Rosenior. "He is quick, has a good left foot and has good experience for someone who is only 22."

"Once he became available I did not have to think twice about signing him and it is an ideal opportunity to get him in and assess him between now and the end of the season."

Tigers skipper Chris Burns, who was put on the transfer list earlier in the week for not having signed a new contract, was today due to put pen to paper on a two-year deal.
April 2nd 1997
Keeling leveller gives Tigers draw
A last minute penalty from Darren Keeling earned Gloucester City a 1-1 draw against Hereford United in the Optimum Interiors Central Conference clash at Meadow Park last night.

The Tigers had fallen behind to a second half Hereford strike until Keeling was downed in the penalty area in the dying seconds but got up to convert the spot kick himself.

Keeling's appearance for the reserves is a good sign that the exciting forward is on his way back to full fitness after limping off with a calf injury for City's first team nearly a month ago. Brian Hughes, Gloucester's reserve team manager, said: "I have seen better. We didn't play particularly well in the first half but improved after that."
April 3rd 1997
Adcock leaves on loan deal
Gloucester City striker Paul Adcock has joined Dr Martens Southern Division high flyers Weymouth on loan until the end of the season. City boss Leroy Rosenior made the decision to release the player after the 2-2 draw at Atherstone where Adcock was substituted in the second half and the deal with Weymouth was finalised in time for the transfer deadline a couple of days later.

Adcock is likely to go straight into the Weymouth line-up which will take on struggling Cinderford Town tomorrow in a match crucial to Weymouth's promotion chances.

Adcock has been forced to play out of position in midfield for much of the season and his situation has not been helped by the in-form Andy Mainwaring and Adie Mings, who are building a better understanding in City's front line.

Rosenior said: "Paul Adcock is a striker and there hasn't been room for him in that position here."

"He wasn't happy where he was playing and I think it will be alot better for him if he can go to another club and play where he wants to play."
April 6th 1998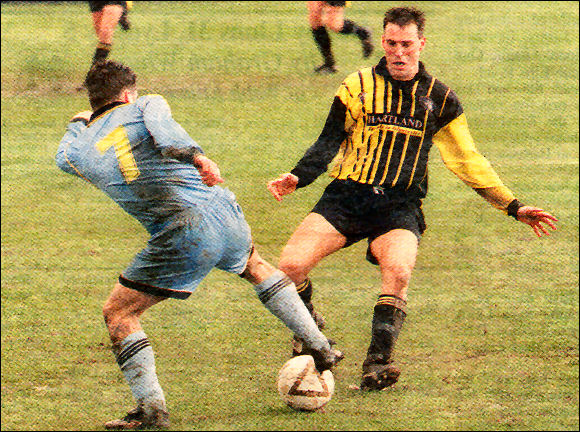 Hat-trick Hero Andy Mainwaring in action against Burton Albion
City 4-2 Burton Albion -
April 14th 1998
Salisbury City 2-3 City -
April 23rd 1998
Burns' spectacular strike
Chris Burns scored from the halfway line as Gloucester City reserves beat Kidderminster Harriers reserves 4-3 at Meadow Park last night.

Darren Keeling headed the first goal after six minutes before Burns made it 2-0 after 17 minutes via a deflection. Kidderminster hit back when Will Steadman beat his own goalkeeper Ben Lambert under pressure from Anthony Robinson. Burns spotted the goalkeeper off his line straight from the kick-off and chipped a spectacular goal, making it 3-1.

Robinson made it 3-2 minutes after the break, and trialist Stephen Bennett restored the two-goal cushion eight minutes from time. Grant Gibbs made it 4-3, but City, who also included former Cheltenham, Rushden and Hednesford midfielder Neil Smith, held out.
Filbert Street to host Tiger Cubs
Gloucester City's youth team will be displaying their skills on a Premiership stage in the final of the Midland Floodlit Youth League Cup next month.

The Tiger cubs face Leicester City, and the Premiership side have confirmed they are happy to stage the game at their Filbert Street ground. Wednesday May 13th (7.30pm) has been pencilled in as the date for the match, but that is still to be confirmed.

Tigers youth team coach Geoff Medcroft said : "It is not every day an opportunity like this comes along and it will be a tremendous experience for the players."

"It will be great for their parents to see them run out on a pitch of that quality."
April 27th 1998
City 3-5 Cambridge City -
April 28th 1998 - City reserves 1-1 Hednesford Town reserves
Gloucester City were unlucky not to come away with all three points after dominating much of the Central Conference fixture but had top settle for a 1-1 draw. As well as including all three Swindon trialists and Neil Smith, Gloucester also included young striker Kwesi Cairns who has been playing for Stoke City.

After early City possession it was a surprise when Hednesford took the lead in the 11th minute. A right wing corner was met by Chris Young, whose shot was blocked, but the ball ran kindly to Mark Jones who hammered it in. City were level ten mintes later, when a left sided corner was cleared by the Hednesford defence, but only as far as Will Steadman. He shot from twenty yards and from eight yards Cairns redirected the ball home. Cairns was denied two minutes later by a superb save from Kearns in the Hednesford goal.

The second half was predominantly City's with good defence, midfield and attacking work. Tom Rutter's introduction in the 62nd minute added an attacking dimension as he tormented the defence and came close in the 82nd minute only to be denied by the goalkeeper.

GLOUCESTER CITY : M.Sumpter, W.Steadman (T.Rutter), W.Thorne, S.Powell, S. Hodgson, N.Smith, D.Elsey, A.Tucker, R.Colwell (D.Nichols), K.Cairns, S.Bennett. Sub not used : B.Hughes.
July 20th 1998
City 3-0 Wolves -
August 9th 1998
City 0-6 Bristol City XI -
August 26th 1998
City 4-1 Dorchester Town -
August 27th 1997
Bromsgrove Rovers Reserves 1-3 City Reserves
Gloucester City reserves earned a 3-1 victory at Bromsgrove Rovers in the Optimum Interiors Central Conference. Gary Thorne hit the winner with a last minute penalty while Kwesi Cairns and Tom Rutter got the Tigers' other goals.

City Youth also started their season in the Midland Youth Floodlit League with a 4-1 win over Evesham United at Meadow Park.
August 31st 1998
City 1-1 Ilkeston Town -
September 1st 1998
Bath City 1-2 City -
September 9th 1998
City 0-0 Weymouth -
September 14th 1998
City 1-0 Nuneaton Borough -
September 23rd 1998
City 2-1 Bath City -
September 28th 1998
Burton Albion 5-3 City -
September 30th 1998
Bromsgrove Rovers 0-1 City -
October 5th 1998
City 2-1 Paulton Rovers -
October 7th 1998
Tigers are saved by Webb's double
Cirencester Town 1-3 City (aet) -
October 12th 1998
City 0-0 Atherstone United -